Almost everyone associates the month of February with love. Thanks,Valentine's Day! Did you know the month of February had other historical names like helmikku which is Finnish for "month of pearl" and sechko that means "cutting of wood" in Macedonia.  Croatians call the month veljača, whose meaning is unknown but may come from the word for "greater," a possible reference to the days increasing in length. (Thanks, Wikipedia for the February facts.) Could you imagine celebrating the cutting of wood every February? A great Valentine's day gift would be crafting a heart out of a giant piece of wood. Maybe it's best that we focus on the love and "greater" part of February.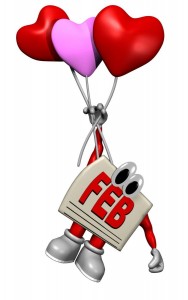 How do love and credit unions fit together?
No matter what your financial situation looks like, the door is open, without gender, social, racial, political or religious discrimination.
Access to financial literacy tools and resources. Credit unions believe that education contributes to personal growth.
Knowing that your day-to-day banking translates into benefits for charities, local businesses and the entire community.
We're here to help you become greater!  Find out how today!